G Winter
Books by G Winter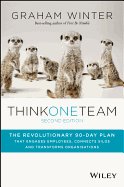 Available in: Paperback
What does it mean to think one team?
It's the big bold vision that can only happen when everyone collaborates across traditional silos.
It's the seamless service that customers rave about.
It's the leadership team working together on budgets and business plans.
It's the tough conversations, the co-creation and the breakthrough moments.
Anything else?
It's absolutely essential if you, your team and organisation want to survive and thrive in a world of unstoppable change and disruption.
In this second edition of the best-selling Think One Team, Graham Winter reveals the method and toolkit used by many of the world's leading companies to transform their businesses from silo-based to nimble and adaptive.
Written as an engaging and compelling story, you will learn how to use the simplicity and power of one team to engage employees, connect with colleagues and transform your whole organisation.