Laurence Houghton
LAURENCE HAUGHTON, former producer for ABC radio and coauthor of the acclaimed bestseller "It's Not the Big That Eat the Small . . . It's the Fast That Eat the Slow, is a management consultant with more than twenty years of frontline experience in the manufacturing, retail, media, and service industries. A resident of Greenbrae, California, he conducts workshops on revenue growth and management follow-through both here and abroad.

Books by Laurence Houghton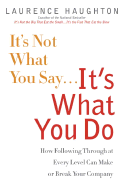 Available in: Hardcover
Good managers at every level recognize the importance of strategic planning and setting concrete goals for their employees. But even the best among them often fail to implement and support the crucial processes that turn well-laid plans into visible successes. Studies show that over the last fifty years, a whopping 83 percent of corporate slowdowns were attributable not to outside economic forces but to the lack of vigilant follow-through within the company itself.
In IT'S NOT WHAT YOU SAY...IT'S WHAT YOU DO, Laurence Haughton identifies the missteps that allow initiatives to fall through the cracks and explains how to close the gap between what a company sets out to do and what actually happens. Drawing on interviews with top-level executives from such companies as IKEA, "The Wall Street Journal, " Charles Schwab, Time Warner, Watson Wyatt, and Pella Corp., and scores of entrepreneurs covering every industry, he presents the essential strategies for ensuring the success of innovations and change, including:
- Get more "buy-in" from employees on new initiativse
- Balance control with coordination to make your team more effective
- Make sure that expectations are crystal clear
- Maintain a sense of urgency and momentum on a daily basis
Filled with real-life examples of how effective follow-through stems the waste of resources, improves productivity, and prevents costly mistakes, IT'S NOT WHAT YOU SAY...IT'S WHAT YOU DO gives managers the tools they need to eliminate self-generated failure and achieve their goals.