Bill Schley
Books by Bill Schley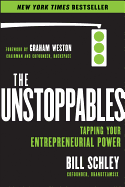 Available in: Hardcover
How to tap the real source of entrepreneurial power in you and in your organization
"The UnStoppables" is based on foreword author Graham Weston's experience growing Rackspace, as well as fascinating case studies from such organizations as the Navy SEALs and Israeli Special Forces. In "The UnStoppables" Bill Schley, co-founder of the branding firm Brand Team Six shows how the best practitioners think continuously about two things: The Big Picture and the Little Picture--essence and essentials. The essentials are the business and financial mechanics required of any working enterprise. But the essence is the "emotional mechanics "to deal with obstacles, risk, fear and failure. Mastering the emotional mechanics is how entrepreneurs succeed and winners win. This is how you capture the unlimited power of entrepreneurship to spark a successful start-up or revitalize a mature organization. Explains why what's stopping you is more important than what's starting you, how to tap the essence of entrepreneurial power in you and in your organization, and how motion generates vision Bill Schley is an award winning author and established expert on branding and marketing communications, as well as the co-founder and creative director of the branding firm Brand Team Six Graham Weston is the internationally renowned co-founder and chairman of Rackspace, the world's #1 cloud computing and managed hosting company
Locally, this book teaches you how to become an entrepreneur or to inspire an entrepreneurial mindset to boost any stage business. Globally, this book is about how this nation can launch thousands more entrepreneurs for the future.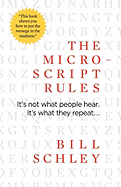 Available in: Paperback
Know how to make 5 words beat 5,000? Or tell your whole story in a sentence of less? For communicators now, it 's critical. And the secret 's in The Micro-Script Rules: It 's not what people hear. It 's what they repeat
Call it survival of the simplest: That 's the bottom line if you re in branding, politics, teaching, a business owner or advertiser anyone who communicates in this hyper-connected world. Because with 300 billion messages going by each second, we can t break through by delivering more data. Human brains want less. They want to make snap judgments on the least bit of info. They want us to package it for them--in Micro-Scripts. That 's why:
A new product seizes 50% of the market in two years using 7 perfect words.
A lawyer won the murder trial of the century with 8 simple words.
Ernest Hemingway thought his greatest story ever was 6 words long.
The fate of millions was changed by a war, based on a 2 word policy.
A presidential election turned on a 4 word phrase.
Imagine the power of magic words like these on your brand, your website, your business plan, your career. They re not just sound bites. They re story bites. Written the way we love to remember and repeat. Used by great communicators for 1,000 years. Now they re yours in a smart and entertaining book: The Micro-Script Rules.
The Micro-Script Rules is dead on it 's how to verbalize a point of difference.
--JACK TROUT, co-author of the legendary Positioning: The Battle for Your Mind
The missing ingredient in most marketing is memorability Micro-Scripts solve that problem.
-- AL RIES, co-author of the legendary Positioning: The Battle for Your Mind
As Bill Schley shows, Micro-Scripts are big marketing. Now, anyone can dominate a market with a few well-placed words. Especially you. So what are you waiting for
-- DAVID MEERMAN SCOTT, bestselling author, The New Rules of Marketing & PR
This should be required reading for every candidate and campaign consultant.
--JIM KITCHENS, Ph. D., President of The Kitchens Group
WOW, one of the most important books you will read in your lifetime!
--JASON JENNINGS, bestselling author, Less is More, Think BIG-Act Small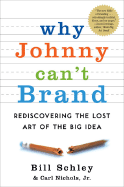 Available in: Hardcover
Offering a unique eight-week program that can help any company create a #1 brand, this down-to-earth guide explains that by focusing on the one big idea, businesses can make people really want their product or service.