Amanda De Cadenet
Books by Amanda De Cadenet

Available in: Paperback, Hardcover
In her uniquely provocative voice, Amanda de Cadenet offers an original perspective as a feminist on the front lines of celebrity culture.
Through her interview series, The Conversation, Amanda de Cadenet talks with some of today's most badass women--from Hillary Clinton to Lady Gaga--in as-honest-as-it-gets conversations that speak to what it means to be female. Now, in It's Messy, Amanda shares her own story: a portrait of childhood fame, teen motherhood, a high-profile marriage (and divorce), and the sexism that threatened to end her career--all before she turned nineteen.
With the raw honesty and intense passion for which she's known, Amanda tackles uncomfortable yet familiar topics: ambivalence about motherhood; marriage; sex; body image; and the cultural influences that shape unrealistic expectations for women.
Part manual, part manifesto, this intimate, hilarious, and insightful collection of essays challenges stereotypes and social norms, and examines the universal experiences relevant to women today.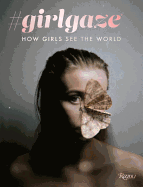 Available in: Hardcover
Collection of photographs from social media movement #girlgaze.