Being Relational: The Seven Ways to Quality Interaction and Lasting Change
BULK DISCOUNTS ARE AVAILABLE. CONTACT AARON FOR DETAILS. 414-220-4459
Our world is a crowded and hyper-connected place and it is becoming more crowded and hyper-connected every day. The challenges of our world call us to evolve as a species at a pace that has never been necessary before - not in our physical attributes, not in our emotional capacities, not in our mental capabilities, and arguably not even in our use of technology to master the environment and harness its resources. We are called to evolve in the ways that we interact with each other as fellow inhabitants of Earth.
Being Relational details seven ways of being in relation to others that capture the heart and soul of all that is self-help. It is grounded in method, and is supported by relational conflict theory and brain science findings. The seven ways of being that promote quality face to face interactions and positive transformation are rooted in teachings from many sources - conflict resolution, negotiation ethics, neuroscience, multiple faith traditions and numerous popular self-help and business books. It is a unique collection of teachings that focus on what happens in human interaction. This unique approach is inspired by thousands of broken relationships that the Senfts have mediated and coached back to strength and connectedness over the last two decades..
    REVIEW QUOTES
"Being Relational speaks to the heart of reconciling differences. It moves us from stereotyping to knowing others as they actually are. Bravo to applying the Enneagram map to negotiating interpersonal matters of consequence."
—Helen Palmer, teacher of conscious studies and international bestselling author of The Enneagram: Understanding Yourself and the Others in Your Life and The Enneagram in Love and Work: Understanding Your Intimate and Business Relationships
"Perhaps nowhere in America could we more use a lesson in 'being relational' than Capitol Hill. As partisan squabbling increasingly gets in the way of commonsense solutions, lawmakers could stand to reevaluate their approach to interacting with others with the help of expert mediators Louise Phipps Senft and William Senft. Maybe the 'Seven Ways to Quality Interaction' could even help those of us in office overcome our ideological differences and create 'lasting change' for the American people."
—C. A. "Dutch" Ruppersberger, Congressman (MD)
"Louise Phipps Senft and William Senft have given us a brilliantly synthesized and hauntingly simple and profound approach for creating greater well-being in every interaction, especially the ones that potentially divide us because of our differences. Being Relational is a seminal piece of work on how to make the possibility of quality engagement a reality, even with those you don't like or who are different from you, locally and globally. If you manage people, every person on your team needs to read Being Relational; your leadership and interactions will be forever changed for the best."
—Fernando Hernandez, director of Supplier Diversity at Microsoft
"Being Relational is a seminal contribution not only to the practice of negotiation and dispute resolution but also to our understanding of how we all interact with each other in an increasingly 'hyper-connected' world. Louise Phipps Senft and William Senft bring more than two decades of experience acquired as mediators and problem solvers to their examination of how managers and decision makers need to deal with managing conflict and building relationships. Understanding the distinction the authors make between dealing with people in a transactional fashion and dealing with them in a relational fashion is essential to understanding human relationships in the modern world. The paradox of our era is that providing people with easier access to the Internet and social media only seems to have complicated our interactions with each other. The Senfts' new book provides practical advice on how to cope with the dilemma of handling misunderstandings when the source of those misunderstandings is no longer too little communication but too much. Being Relational is required reading for anyone in a leadership role who seeks to build more constructive relationships within organizations, communities, and families."
—David B. Lipsky, Anne Evans Estabrook professor of dispute resolution in the School of Industrial and Labor Relations and director of the Scheinman Institute on Conflict Resolution at Cornell University
"As an observer of the increasingly polarized and dysfunctional Congress for almost forty years, I think I can say that the fundamental problem in the institution is the breakdown in quality interaction among the members. Legislators can accomplish far more when they work with each other as individuals rather than operate as political robots relentlessly following their leader or some ideo- logical faction. If members are looking for a guide as to how they might become happier and more productive, they should begin by reading Being Relational. Solving the problems faced by our nation and the world requires all of us, in a myriad of ways, to improve our interaction with others, but it is crucial that our leaders learn and utilize these techniques as well."
—Vic Fazio, senior advisor at Akin Gump Strauss Hauer and Field LLP and former U.S. Congressman (CA)
"Louise Phipps Senft and William Senft have easily passed author Malcolm Gladwell's '10,000 hour rule' for achieving world-class skill in their field of mediation and conflict resolution. But in this book they use their experience to help us all understand that the techniques they teach to help people address conflicts are the same ones we can use to achieve healthy relationships and harmony in our lives. Thinking of human interactions as relational, rather than as transactional negotiations to gain relative individual success, actually leads to mutual success and happiness. Yes, Being Relational is a handbook for living our personal lives. But it is more than that. The techniques it contains apply just as well to the goal of replacing the escalation of conflict with relational responsiveness in politics and in international relations. Its wisdom and approach are that important and valuable."
—Stuart Butler, senior fellow at the Brookings Institution, visiting fellow at Convergence Center for Policy Resolution, and former director of the Center for Policy Innovation at the Heritage Foundation
"In our fast-paced, digitally connected world, Louise and William remind us of the importance of personal interaction at the human level. Using the tools offered in Being Relational, I've seen a marked improvement in my interactions with others both in business and at home, and am introducing the concept to my teams."
—Dan Taylor, director of Global Display at Google
"Being Relational is the cornerstone of investment for anyone wishing to create paradise in their home space. Having helped launch the Chicken Soup for the Soul series, Men Are From Mars, The Secret, Outwitting the Devil, Rich Dad Poor Dad, and other blockbuster titles, I ask all our hundreds of millions of readers to get five copies of Being Relational as you will wish to give this gift to those you care for most in your close circles. Being Relational is the 'do it now' book of the decade that will keep on giving. Send out 'five to thrive' and everyone will thank you for years and years and years. I so approve of their message."
—Berny Dohrmann, chairman of CEO Space International and bestselling author of Redemption: The Cooperation Revolution
"Having spent the past decade working across time zones and different cultures in both my professional and personal life, Louise Phipps Senft and William Senft have approached how we connect with one another in seven simple ways. In an era where we focus on diversity, work/life balance, global responsibility, and even how to adapt to a millennial work force and world, it comes down to a need for dialogue and how to do that well for positive outcomes. There is a relational leader in each of us! I am recommending Being Relational for all my teams and my family."
—Loretto Kane at Microsoft Corporation
"Open your minds, your hearts and, dare I say, souls when you read this book. As a scientist, you understand that knowledge and learning is an ever-constant process. Even so, as a hu- man being living and interacting on this earth, certain things are taken for granted; simple things, like how generous, how humble, and how kind you are. The Senfts have heightened my awareness of how much more work I have to do in these areas as well as how high my expectations can and should go. Your relationships, with those you love and with strangers and enemies, the process of your life through interactions with others, is the theme of this book. Being Relational challenges us to live at a higher level and to be grounded, clear, and centered within ourselves and to interact from a position of love. Halfway through I experimented with the process in an interaction with my teenage son—a dramatic change in our typical outcome ensued. Start with the 'ORANS—The Image of Being Relational' section at the end, then visualize yourself with that posture as you read. This book could change your life."
—Mary Ellen P. McNally, Ph.D., technical fellow at the Stine Haskell Research Center for the Crop Protection Products business unit at E. I. du Pont de Nemours and Company
"My experience as a lawyer, mediator, and judge has been that our failure to resolve conflict is not because we are not smart enough or we do not have the means to do so, it is because we do not care deeply enough about our relationship with the other side. In their practical yet profound book Being Relational, Louise Phipps Senft and William Senft share with us the qualities necessary to form lasting, meaningful, and productive interactions and thus change. The seven qualities discussed for lasting change are all familiar to us, but seldom are we intentional about calling upon them to change our part of the world. An enjoyable and easy read, you might even find it completing your unspoken thoughts. I would refer to it as Getting to Yes for the soul."
—Michael John Aloi, circuit court judge in the
16th Judicial Circuit of West Virginia
    SHARE THIS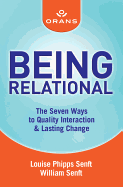 eBook
Price: $19.95/ea
1
$19.95
9780757318801
No volume discount available.
About the Paperback
---
| | |
| --- | --- |
| Publisher | Health Communications |
| Publish date | 09/01/2015 |
| Pages | 264 |
| ISBN-13 | 9780757318801 |
| ISBN-10 | 0757318800 |
| Language | English |
Categorized Under
---
https://800ceoread.com/products/being-relational-louise-phipps-senft-william-senft-english
To order call 1-800-236-7323 or e-mail orders@800ceoread.com
© 800-CEO-READ