Beyond the Core: Expand Your Market Without Abandoning Your Roots
All companies must grow to survive--but only one in five growth strategies succeeds. In Profit from the Core, strategy expert Chris Zook revealed how to grow profitably by focusing on and achieving full potential in the core business. But what happens when your core business provides insufficient new growth or even hits the wall? In Beyond the Core, Zook outlines an expansion strategy based on putting together combinations of adjacency moves into areas away from, but related to, the core business, such as new product lines or new channels of distribution. These sequences of moves carry less risk than diversification, yet they can create enormous competitive advantage, because they stem directly from what the company already knows and does best. Based on extensive research on the growth patterns of thousands of companies worldwide, including CEO interviews with 25 top performers in adjacency growth, Beyond the Core 1) identifies the adjacency pattern that most dramatically increases the odds of success: "relentless repeatability;" 2) offers a systematic approach for choosing among a range of possible adjacency moves; and 3) shows how to time adjacency moves during a variety of typical business situations. Beyond the Core shows how to find and leverage the best avenues for growth--without damaging the heart of the firm.
    RELATED ARTICLES
EDITOR'S CHOICE:

The Founder's Mentality: How to Overcome the Predictable Crises of Growth
Posted June 16, 2016, 1:00 PM with category of General Business
Chris Zook and James Allen have a new book on strategy, and is the first of theirs that turns the company focus inward.
Read more
NEWS & OPINION:

Repeatability
Posted March 6, 2012, 7:55 PM with category of General Business
We've spent a lot of time with Chris Zook. Not the man himself, but his work. When we were prepping the material for The 100 Best Business Books of All Time, Jack and Todd were still unsure of what the exact construction of the book would look like, but we were sure of one thing: Chris Zook had to be included in the book.
Read more
NEWS & OPINION:

The 100 Best Business Books of All Time: Updated & Expanded!
Posted September 2, 2011, 5:41 PM with category of General Business
We're excited to announce an updated and expanded paperback version of The 100 Best Business Books of All Time available 11/1/11 from Portfolio. More content--expanded reviews of the Takeaway chapter books (including Thinkertoys, The First 90 Days, Beyond the Core, and The Lexus and the Olive Tree); new sidebars (including decision-making, visual thinking, and 1982, the watershed year for business books); and a new introduction and closing manifesto--means more for you to learn and enjoy. The perfect book for you to put on your Christmas list and read to inspire you for the new year!
Read more
NEWS & OPINION:

Beyond the Core - Beyond the Page
Posted January 13, 2009, 9:30 PM with category of General Business
Todd wrote a great extended piece about Chriz Zook's Core trilogy last Wednesday that, if you missed, is well worth going back for. However, if you're looking for the full Sattersten experience, you'll want check out the video below in which he discusses Beyond the Core, one of The 100 Best Business Books of All Time.
Read more
NEWS & OPINION:

The Core Trilogy
Posted January 7, 2009, 1:28 PM with category of General Business
I am a big fan of Chris Zook's work. He is a partner at Bain & Company and he has spent alot of time researching what companies should do from a strategic point of view to be successful. Zook offers sobering statistics for the success of new ventures and equally inspiring numbers for the power that market leaders have in their industries.
Read more
    SHARE THIS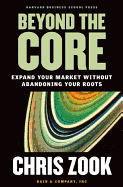 eBook
Price: $32.00/ea
| | |
| --- | --- |
| Publisher | Harvard Business School Press |
| Publish date | 01/01/2004 |
| Pages | 240 |
| Availability | Available |
| ISBN-10 | 1578519519 |
| Language | English |