Brand Bubble: The Looming Crisis in Brand Value and How to Avoid It
How to use brands to gain and sustain competitive advantage
Companies today face a dilemma in marketing. The tried-and-true formulas to create sales and market share behind brands are becoming irrelevant and losing traction with consumers. In this book, Gerzema and LeBar offer credible evidence--drawn from a detailed analysis of a decade's worth of brand and financial data using Y&R's Brand Asset Valuator (BAV), the largest database of brands in the world--that business is riding on yet another bubble that is ready to burst--a brand bubble. While most managers still see metrics like trust and awareness as the backbone of how brands are built, Gerzema asserts they're dead wrong--these metrics do not add to increased asset value. In fact, by following them, they actually hasten the declining value of their brands.
Using a five-stage model, "The Brand Bubble" reveals how today's successful brands--and tomorrow's--have an insatiable appetite for creativity and change. These brands offer consumers a palpable sense of movement and direction thanks to a powerful "energized differentiation." Gerzema reveals how brands with energized differentiation achieve better financial performance than traditional brands have. Plus, Gerzema helps readers develop energized differentiation in their own brands, creating consumer-centric and sustainable organizations.
    RELATED ARTICLES
NEWS & OPINION:

Winter 2010: International Best Sellers
Posted March 3, 2010, 6:57 PM with category of General Business
The time has come to talk of many things. . .
Read more
NEWS & OPINION:

strategy + business Best Books of 2009
Posted November 25, 2009, 4:52 PM with category of General Business
The strategy + business annual books list is always one of the finest and most anticipated of the year. They get really smart and talented people who know how to pick 'em, and have them write (always highly intelligent and insightful) essays on their category—and, of course, the books in it. I've listed the picks below, but it really is worth heading over to strategy + business for the essays.
Read more
NEWS & OPINION:

The Brand Bubble in strategy + business
Posted June 24, 2009, 5:10 PM with category of General Business
We were big fans of last year's The Brand Bubble: The Looming Crisis in Brand Value and How to Avoid It, by John Gerzema and Ed Lebar—so much so that it took home the 800-CEO-READ Business Book Award in the Advertising & Marketing category. We also published a manifesto from Mr. Gerzema over at ChangeThis about How Business Speculation in the Consumer Marketplace Threatens Our Economy.
Read more
NEWS & OPINION:

February's International Best Sellers
Posted March 5, 2009, 4:04 PM with category of General Business
In our effort to keep everyone all over the world a mouse click away from each other. . .
Read more
NEWS & OPINION:

2008's International Best Sellers!
Posted February 2, 2009, 10:44 PM with category of General Business
I know, I know - it's kind of a bit late for New Year's Wishes, but I'm gonna do it anyway! I'm offering up our listing of what was HOT HOT HOT last year from our customers across the borders, times zones and bodies of water! Take time to see what was popular in Poland, on demand in Denmark, cool in Canada and intoxicating in India!
Read more
    SHARE THIS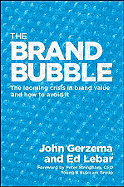 eBook
Price: $18.99/ea
| | |
| --- | --- |
| App required | iOS or Google Play |
| Publisher | Jossey-Bass |
| Publish date | 11/02/2008 |
| Pages | 0 |
| Availability | Available |
| ISBN-10 | 047044939X |
| Language | English |
Look for similar items