Brand Hijack: Marketing Without Marketing
A guide to successful branding without typical marketing practices introduces the concept of consumer-driven, or word-of-mouth, branding, in a practical guide that addresses such challenges as media saturation, consumer evolution, and the erosion of image marketing. 50,000 first printing.
Alex Wipperfrth, called a marketing subversive... The guy who will make your brands cool by "Adweek," is a partner at marketing boutique Plan B in San Francisco. He helps brands like Pabst Blue Ribbon, Napster, and Dr. Martens appear like serendipitous accidents.
    SHARE THIS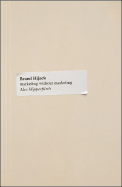 eBook
Your price: $24.95/ea
| | |
| --- | --- |
| ISBN | 9781591840787 |
| Language | English |
| Pages | 280 |
| Publish Date | 02/01/2005 |
| Publisher | Portfolio |
Look for similar items