Diffusion of Innovations, 5th Edition
Now in its fifth edition, "Diffusion of Innovations" is a classic work on the spread of new ideas.
In this renowned book, Everett M. Rogers, professor and chair of the Department of Communication & Journalism at the University of New Mexico, explains how new ideas spread via communication channels over time. Such innovations are initially perceived as uncertain and even risky. To overcome this uncertainty, most people seek out others like themselves who have already adopted the new idea. Thus the diffusion process consists of a few individuals who first adopt an innovation, then spread the word among their circle of acquaintances--a process which typically takes months or years. But there are exceptions: use of the Internet in the 1990s, for example, may have spread more rapidly than any other innovation in the history of humankind. Furthermore, the Internet is changing the very nature of diffusion by decreasing the importance of physical distance between people. The fifth edition addresses the spread of the Internet, and how it has transformed the way human beings communicate and adopt new ideas.
Dr. Everett M. Rogers is Distinguished Professor in the Department of Communication and Journalism at the University of New Mexico (UNM), where he teaches and conducts research on the diffusion of innovations.
    RELATED ARTICLES
NEWS:

Best Business Books via U.S. News and World Report
Posted May 18, 2007, 7:06 PM with category of General Business
U. S. News and World Report has a huge special report on the Best Business Books.
Read more
NEWS:

800-CEO-READ sponsors WOMMA Summit 2005
Posted March 25, 2005, 8:44 PM with category of Marketing
800-CEO-READ is a proud sponsor of the Word-of-Mouth Marketing Summit 2005. We don't normally sponsor events, but we thought this was an unique event on a unique topic. The Summit is being held in Chicago next week and word has it that it is sold out.
Read more
NEWS:

Biz Books from B-Schools - Part III
Posted April 30, 2004, 5:00 PM with category of General Business
Here are a couple more people who were on the 2000 BW list. Jeff Bezos' single recommendation was Built to Last by Jim Collins. And Jim Collins had no shortage of ideas for your reading list: THE SOCIAL PSYCHOLOGY OF ORGANIZING by Karl E.
Read more
    SHARE THIS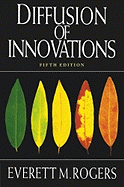 eBook
Price: $27.99/ea
| | |
| --- | --- |
| App required | iOS or Google Play |
| Publisher | Free Press |
| Publish date | 08/04/2003 |
| Pages | 0 |
| Availability | Available |
| Language | English |
Look for similar items