Free: The Future of a Radical Price
The New York Times bestselling author heralds the future of business in Free. In his revolutionary bestseller, The Long Tail, Chris Anderson demonstrated how the online marketplace creates niche markets, allowing products and consumers to connect in a way that has never been possible before. Now, in Free, he makes the compelling case that in many instances businesses can profit more from giving things away than they can by charging for them. Far more than a promotional gimmick, Free is a business strategy that may well be essential to a company's survival. The costs associated with the growing online economy are trending toward zero at an incredible rate. Never in the course of human history have the primary inputs to an industrial economy fallen in price so fast and for so long. Just think that in 1961, a single transistor cost $10; now Intel's latest chip has two billion transistors and sells for $300 (or 0.000015 cents per transistor--effectively too cheap to price). The traditional economics of scarcity just don't apply to bandwidth, processing power, and hard-drive storage. Yet this is just one engine behind the new Free, a reality that goes beyond a marketing gimmick or a cross-subsidy. Anderson also points to the growth of the reputation economy; explains different models for unleashing the power of Free; and shows how to compete when your competitors are giving away what you're trying to sell. In Free, Chris Anderson explores this radical idea for the new global economy and demonstrates how this revolutionary price can be harnessed for the benefit of consumers and businesses alike.
    RELATED ARTICLES
JACK COVERT SELECTS:

Jack Covert Selects - Makers
Posted October 11, 2012, 6:26 PM with category of General Business
Makers: The New Industrial Revolution by Chris Anderson, Crown Business, 257 pages, $26. 00, Hardcover, October 2012, ISBN 9780307720955 The Industrial Revolution began in the middle of the 18th century, and has provided an increasingly stable economy ever since. Innovations in mining, transportation, agriculture, manufacturing, and technology provided jobs and contributed toward a better quality of life around the world.
Read more
NEWS:

strategy + business Best Books of 2009
Posted November 25, 2009, 4:52 PM with category of General Business
The strategy + business annual books list is always one of the finest and most anticipated of the year. They get really smart and talented people who know how to pick 'em, and have them write (always highly intelligent and insightful) essays on their category—and, of course, the books in it. I've listed the picks below, but it really is worth heading over to strategy + business for the essays.
Read more
NEWS:

Financial Times and Goldman Sachs Business Book of the Year - The Longlist
Posted August 12, 2009, 8:40 PM with category of General Business
The longlist for the 2009 Financial Times and Goldman Sachs Business Book of the Year Award has been announced. The press release states that "The award is designed to highlight the book that provides the most compelling and enjoyable insight into modern business issues, including management, finance, and economics. " The books on the longlist are: Animal Spirits: How Human Psychology Drives the Economy, and Why It Matters for Global Capitalism by George A Akerlof, Robert J Shiller Clever: Leading Your Smartest, Most Creative People by Rob Goffee, Gareth Jones Free: The Future of a Radical Price by Chris Anderson Good Value: Reflections on Money, Morality and an Uncertain World by Stephen Green House of Cards: A Tale of Hubris and Wretched Excess on Wall Street By William D Cohan (Cohan won the award two years ago for his first book, The Last Tycoons.
Read more
STAFF PICKS:

Kevin Kelly weighs in on Free
Posted July 22, 2009, 8:21 PM with category of General Business
The brilliant Kevin Kelly, author of Out of Control: The New Biolgy of Machines, Social Systems, & the Economic World and founder of Cool Tools, offered his take on Chris Anderson's Free: The Future of a Radical Price earlier this week. Somewhat coincidentally, Kevin Kelly is the author of a recent and popular ChangeThis manifesto entitled Better Than Free. And, though that title might suggest a momentous throwing down with Chris Anderson, Gladwell style, maybe even resorting to fisticuffs, it it no such thing.
Read more
JACK COVERT SELECTS:

Jack Covert Selects - Free
Posted July 13, 2009, 1:38 PM with category of General Business
Free: The Future of a Radical Price by Chris Anderson, Hyperion, 288 pages, $26. 99, Hardcover, July 2009, ISBN 9781401322908 In 1954, Lewis Strauss, the head of the Atomic Energy Commission, declared the dawn of a new era. Diseases would cease to exist.
Read more
    SHARE THIS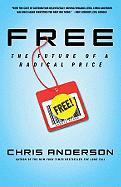 eBook
Price: $9.99/ea
| | |
| --- | --- |
| App required | iOS or Google Play |
| Publisher | Hachette Books |
| Publish date | 07/06/2009 |
| Pages | 0 |
| Availability | Available |
| Language | English |
Look for similar items