The Healing Self: A Revolutionary New Plan to Supercharge Your Immunity and Stay Well for Life
After collaborating on two major books featured as PBS specials, Super Brain and Super Genes, Chopra and Tanzi now tackle the issue of lifelong health and heightened immunity.
We are the midst of a new revolution.

For over twenty-five years Deepak Chopra, M.D. and Rudolph E. Tanzi, Ph.D. have revolutionized medicine and how we understand our minds and our bodies--Chopra, the leading expert in the field of integrative medicine; Tanzi, the pioneering neuroscientist and discoverer of genes that cause Alzheimer's Disease. After reaching millions of people around the world through their collaborations on the hugely successful Super Brain and Super Genes books and public television programs, the New York Times bestselling authors now present a groundbreaking, landmark work on the supreme importance of our immune system in relation to our lifelong health. In the face of environmental toxins, potential epidemics, superbugs, and the accelerated aging process, the significance of achieving optimum health has never been more crucial--and the burden to achieve it now rests on individuals making the right lifestyle choices every day. That means you. You--not doctors, not pharmaceutical companies--are ultimately responsible for your own health. Chopra and Tanzi want to help readers make the best decisions possible when it comes to creating a holistic and transformative health plan for life. In The Healing Self they not only push the boundaries of the intellect to bring readers the newest research and insights on the mind-body, mind-gene, and mind-immunity connections, but they offer a cutting-edge, seven-day action plan, which outlines the key tools everyone needs to develop their own effective and personalized path to self-healing. In addition, The Healing Self closely examines how we can best manage chronic stress and inflammation, which are immerging as the primary detriments of well-being. Moreover, Chopra and Tanzi turn their attention to a host of chronic disorders such as hypertension, heart disease, type 2 diabetes, and Alzheimer's Disease, known to take years and sometimes decades to develop before the first symptoms appear. Contemporary medical systems aren't set to attend to prolonged low-grade chronic inflammation or the everyday infections and stresses that take their toll on the body and can lead to disease, aging, and death. Thus, learning the secrets of self-healing is not only urgent but mandatory for optimum health. The Healing Self then is a call to action, a proven, strategic program that will arm readers with the information they need to protect themselves and achieve lifelong wellness. There is a new revolution occurring in health today. That revolution is you.
    REVIEW QUOTES
Praise for The Healing Self "The Healing Self is a quantum leap forward in the integration of science, medicine, wisdom and health. As Deepak Chopra and Rudolph Tanzi powerfully show, our first line of healing lies inside us, and the choices we make today are crucial to lifelong wellness." -Arianna Huffington, Founder and CEO of Thrive Global "The Healing Self, as revealed by Chopra and Tanzi, is a natural extension of the immunity and inflammation that can be managed by the concrete approach of these seasoned authors." -Mehmet Oz, M.D., Professor of Surgery, NYP-Columbia University "Stress unequivocally affects the immune system and susceptibility to diseases. In The Healing Self, Chopra and Tanzi provide both a holistic and scientific perspective to understand this complex relationship and promote health." -Eric J. Topol, MD, Professor of Molecular Medicine, Scripps Research Institute and author of The Patient Will See You Now "Perhaps the major medical breakthrough of our time is the discovery that most, if not all, chronic disorders begin years earlier than the first symptoms. We've learned that about Alzheimer's -- that it's 20 years in the making. The Healing Self reminds us how important it is that we care for our brains and our bodies at the earliest stage possible." -Maria Shriver, journalist and founder, The Women's Alzheimer's Movement "Most chronic disorders begin years earlier than the first symptoms. The Healing Self is a great resource in showing readers how to use this knowledge for enhancing immunity, slowing the aging process, and going beyond conventional prevention." -Dean Ornish, M.D., Founder & President, Preventive Medicine Research Institute Clinical Professor of Medicine, UCSF and author of The Spectrum "As an academic dean and steward of population health, I understand the damaging effect of prolonged stress and inflammation on overall well-being. Research has shown us that many chronic diseases - such as diabetes and heart disease - can be greatly improved or even prevented through behavioral interventions. Deepak Chopra and Rudolph Tanzi's book The Healing Self provides a potential blueprint for lasting behavioral change through diet, exercise, rest, and positive human connection. This book has the power to enhance individual health and impact many of today's public health challenges." -Bess H. Marcus, PhD, Professor of the Department of Behavioral and Social Sciences and Dean of Brown University School of Public Health "In this landmark book, Drs. Chopra and Tanzi show us that true healing begins with self-healing, a journey of recognizing and nurturing the healing self and the acceptance of our 'dual role' as both the healer and the healed. The healing self is our very own nature, that intelligence which creates, nurtures and sustains all life as we know it." -Paul Mills, PhD, Professor of Family Medicine and Public Health Chief of University of California, San Diego, Behavioral Medicine Division "Deepak Chopra and Rudy Tanzi once again effectively harness their scientific training and passionate commitment to advancing well-being in this accessible, life-changing compendium of cutting-edge tools that will extend your health span and improve your sense of meaning, connection, and flourishing. As inspiring as it is informative, The Healing Self shows us how to use our minds to open our awareness and create daily routines to improve our physical and mental health. Bravo to our guides and to you for taking these practical steps toward healing in your life!" -Daniel J. Siegel, MD, Clinical Professor, UCLA School of Medicine and New York Times Bestselling author of Mind: A Journey to the Heart of Being Human and Aware: The Science and Practice of Presence "The body has an extraordinary healing system. Yet most of us do not know how to activate that system to create vibrant health and prevent disease. Drs. Chopra and Tanzi map out a comprehensive strategy to turn on that healing system and engage your immune system in the healing response. In The Healing Self you will find a practical set of tools informed by the latest science for lifelong health and healing. This book has the power to change your health forever." -Mark Hyman, MD, Director of the Cleveland Clinic Center for Functional Medicine and the #1 New York Times bestselling author of Eat Fat, Get Thin "The wellness movement takes a quantum leap thanks to The Healing Self. It explains how the choices we make today, including choices such as diet and stress relief that affect our microbiomes and immune system, are crucial to lifelong health. No one explains this better and in greater depth than Chopra and Tanzi. Their combination of medicine and wisdom is unique." -Rob Knight, PhD, Professor of Pediatrics and Computer Science & Engineering, UC San Diego and author of Dirt is Good: The Advantage of Germs for Your Child's Developing Immune System and Follow Your Gut: The Enormous Impact of Tiny Microbes "With clarity and eloquence, Drs. Chopra and Tanzi masterfully marshal the latest scientific evidence demonstrating that the root cause of many illnesses and disease is chronic stress and inflammation. More importantly, The Healing Self gives us a clear and concise roadmap that allows us to use this information to heal ourselves and stay healthy for life." -James R. Doty, M.D., Professor of Neurosurgery and Director, The Center for Compassion and Altruism Research and Education (CCARE) and New York Times bestselling author of Into the Magic Shop: A Neurosurgeon's Quest to Discover the Mysteries of the Brain and the Secrets of the Heart
Praise for Super Genes "In Super Genes, Drs. Deepak Chopra and Rudolph Tanzi illustrate the interplay of nature and nurture using cutting edge genetic science and argue persuasively that adapting one's lifestyle can maximize the potential to transcend the inherited susceptibilities handed down to us from our parents." -James Gusella, Ph.D., Director, Center for Human Genetic Research Harvard Medical School "Once thought to be the domain of genes, the control of health and behavior is now dynamically linked to the environment, and more importantly, our perception of the environment. Super Genes, by Deepak Chopra and Rudy Tanzi, is a paradigm-shattering synthesis of epigenetic science that offers an easy-to-understand explanation of the mechanisms by which consciousness and environment control our genetic activity. Drs. Chopra and Tanzi's contribution is a valuable resource that empowers us to become the masters of our fate rather than the 'victims' of our heredity." -Bruce H. Lipton, Ph.D., Epigenetic scientist and bestselling author of The Biology of Belief, Spontaneous Evolution and The Honeymoon Effect "The concept that biology is destiny is one of the most pathological and toxic exaggerations to emerge during the entire scientific era. This hard-core materialistic view has been a kind of psychological enslavement that has pushed many people into nihilism and despair. In Super Genes, Drs. Deepak Chopra and Rudolph E. Tanzi discuss new evidence that our genes are not our masters, but they respond in large measure to our choices and behaviors. The resulting view honors not just the body but mind and spirit as well--a vision that is as bright and hopeful as the old view was morbid and depressing. Super Genes is an important book. It will empower anyone who reads it, because it expands our view of what it means to be human." -Larry Dossey, MD, author of One Mind: How Our Individual Mind Is Part of a Greater Consciousness and Why It Matters "Super Genes demolishes the myth that our genes determine our fate. Deepak Chopra and Rudy Tanzi explain in breathtaking detail the magic of how our diet, lifestyle, our thoughts and even our gut bacteria or microbiome "talk" to our genes, regulating which genes get turned on or off, or turned up or down influencing every aspect of our health. This is essential reading for anyone interested in turning on their health, weight loss, happiness and longevity genes!" -Mark Hyman, MD, Director, Cleveland Clinic Center for Functional Medicine, author of the #1 New York Times Bestseller, The Blood Sugar Solution. "We used to think everything about us was either our genetics or our environment. But in Super Genes, Deepak Chopra and Rudi Tanzi adeptly teach us that it's all about both--how tightly they are intertwined. And what we can do about it." -Eric Topol, MD, author The Patient Will See You Now, Professor of Genomics, The Scripps Research Institute "Flawlessly weaving together the complicated science of genetics with the touching stories of very real people, my friends Deepak and Rudolph have written a book that you won't put down. You will find yourself scribbling furious notes, and sharing your new wisdom with the people you love. First they gave us all the ability to have Super Brains, and now they have done the same with our Super Genes." -Sanjay Gupta, MD, Neurosurgeon and author of Chasing Life, Cheating Death and Monday Mornings "A ground breaking and eye-opening account of recent discoveries in two new fields - epigenetics and microbiomics - weaved with practical insights to optimize our own wellness and longevity. Rudy Tanzi and Deepak Chopra, renowned pioneers in their respective fields, have written one of the most important health books of the year." -Murali Doraiswamy MD, Professor of Psychiatry and Medicine, Duke University "Super Genes will take you on an exciting journey of discovery about the ways genetic expression can be modified by simple lifestyle changes and even by how you use your mind. The essential message of this important book is that your genes alone do not determine your destiny. You can learn how to influence them to enjoy better health and optimum well-being. I recommend it." -Andrew Weil, MD, author, Healthy Aging and Spontaneous Happiness "Our genes are a predisposition, but they are not our fate. The biological mechanisms that affect our health and well-being are often extraordinarily dynamic--for better and for worse. When we eat well, move more, stress less, and love more, our bodies often have a remarkable ability to transform and heal. Super Genes is a superb contribution to our growing knowledge that mind, brain, genome, and microbiome can act as a single system. Drs. Chopra and Tanzi continue to make pioneering contributions that are bringing integrative medicine into the mainstream. Highly recommended!" -Dean Ornish, M.D., Founder and President, Preventive Medicine Research Institute Clinical Professor of Medicine, University of California, San Francisco "Genetics is a two-way street. Drs. Chopra and Tanzi show how the mind can tell the genes to heal the body ." -Stuart Hameroff, M.D., Banner-University Medical Center, The University of Arizona Praise for Super Brain "The captivating story of our brain is brought alive by two world experts with different expertise in this elegant review that will keep your brain young." --Mehmet Oz, M.D., professor and vice chair of surgery, New York Presbyterian/Columbia "Deepak Chopra hits a home run every time and now with Rudy Tanzi in Super Brain they have created an easy-to-read book that will help you maximize all that you have within you." --Larry King "This compelling account explores cutting-edge and controversial issues to suggest how to effectively cultivate the mind to help guide our brain to function in more health-promoting ways. The stories and science of Super Brain illuminate how awareness of our own internal processes can free us from automatic pilot, opening the door to a new way of living with more connection to ourselves, and with the larger worlds in which we live. Why not start now to create more well-being and meaning in your own life?" --Daniel Siegel, M.D., executive director, Midnight Institute; clinical professor, UCLA School of Medicine; and author of Mindsight "Thoughtful, engaging, accessible. . . a book that will improve the lives of many. Decoding the mysteries of the brain and debunking some of itsmost common myths while providing an empowering, practical plan to acheive your very own super brain, Super Brain is an essential read for making the most powerful tool for acheiving health, longevity, and our fullest potential." --Dean Ornish, M.D., founder and president, Preventative Medicine Research Institute; clinical professor of medicine, University of California, San Fransisco; and author of The Spectrum "A mind-blowing book. . . read it carefully and process it all with your new super brain." --Dr. Wayne W. Dyer, author of Wishes Fulfilled "With wisdom born of the integration of mind and brain science, Chopra and Tanzi give us important and quite practical suggestions for enhancing our well-being and for more meaningful lives." --William Mobley, M.D., Ph.D., chair and distinguished professor of Neurosciences, Florence Riford chair for Alzheimer's Disease Research, University of California, San Diego "Super Brain is a user's manual for the brain, based not on long-outdated information but on the most up-to-date research available anywhere, providing you with entirely new and different--and finally, effective--self-treatments for everything from being overweight to depression and anxiety. Get this book--it will change your beliefs, your behaviors, and your life." --Ken Wilber, author of The Integral Vision "In this brilliant book, Chopra and Tanzi lucidly show how the most cutting-edge breakthroughs of modern science can help you take full advantage of the amazing three-pound universe between your eyes." --T. Byram Karasu, M.D., Silverman Professor and the University chariman, Department of Psychiatry and Behavioral Science, Albert Einstein College of Medicine
    SHARE THIS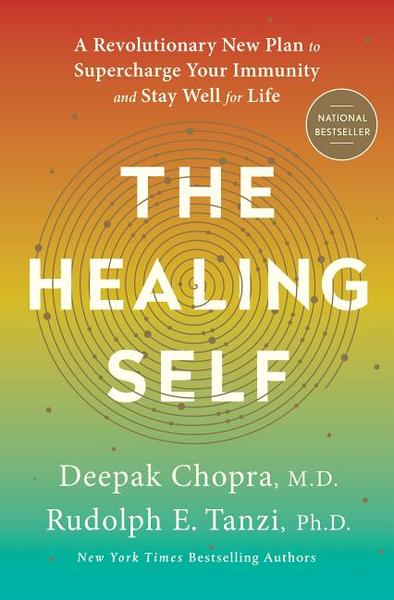 eBook
Price: $20.80/ea
LIST PRICE: $26.00
Bulk Hardcover Non-returnable Discounts
Quantity
Price
Discount

1

- 24

$20.80

20%

25

- 99

$16.12

38%

100

- 249

$15.60

40%

250

- 499

$15.08

42%

500

- 999

$14.82

43%
ISBN: 9780451495525
About the Hardcover
---
| | |
| --- | --- |
| Publisher | Harmony |
| Publish date | 01/30/2018 |
| Pages | 304 |
| ISBN-13 | 9780451495525 |
| ISBN-10 | 0451495527 |
| Language | English |
Need 1000 or more?
---
Additional discounts may be available for print books. We also offer pricing for RETURNABLE orders. Please call 1-800-236-7323 or
email us to request a quote
.
https://800ceoread.com/products/healing-self-deepak-chopra-rudolph-e-tanzi-english
To order call 1-800-236-7323 or e-mail orders@800ceoread.com
© 800-CEO-READ