How the Poor Can Save Capitalism: Rebuilding the Path to the Middle Class
John Hope Bryant, successful self-made businessman and founder of the nonprofit Operation HOPE, says business and political leaders are ignoring the one force that could truly re-energize the stalled American economy: the poor. If we give poor communities the right tools, policies, and inspiration, he argues, they will be able to lift themselves up into the middle class and become a new generation of customers and entrepreneurs. Raised in poverty-stricken, gang-infested South Central Los Angeles, Bryant saw firsthand how our institutions have abandoned the poor. He details how business loans, home loans, and financial investments have vanished from their communities. After decades of deprivation, the poor lack bank accounts, decent credit scores, and any real firsthand experience of how a healthy free enterprise system functions. Bryant radically redefines the meaning of poverty and wealth. (It's not just a question of finances; it's values too.) He exposes why attempts to aid the poor so far have fallen short and offers a way forward: the HOPE Plan, a series of straightforward, actionable steps to build financial literacy and expand opportunity so that the poor can join the middle class. Fully 70 percent of the American economy is driven by consumer spending, but more and more people have too much month at the end of their money. John Hope Bryant aspires to "expand the philosophy of free enterprise to include all of God's children" and create a thriving economy that works not just for the 1 percent or even the 99 percent but for the 100 percent. This is a free enterprise approach to solving the problem of poverty and raising up a new America.
    RELATED ARTICLES
NEW RELEASES:

Business Books to Watch in September
Posted September 1, 2017, 10:45 AM with category of Publishing Industry
These are just 20 of the many promising books being released in September that we'll be taking a closer look at.
Read more
BESTSELLERS:

800-CEO-READ's 2015 Bestsellers
Posted January 6, 2016, 9:00 AM with category of Publishing Industry
It's been another record year for us here at 800-CEO-READ. These are the books we moved the most in 2015.
Read more
BESTSELLERS:

August 2015 Business Book Bestsellers
Posted September 1, 2015, 1:08 PM with category of The Company
Our business book bestsellers for the month of August, 2015
Read more
INTERVIEWS:

A Q&A with Peter D. Kiernan
Posted June 10, 2015, 10:30 AM with category of Innovation & Creativity
We continue our Thinker in Residence series with an interview with Peter Kiernan delving into the nature of the middle class and the American psyche
Read more
BESTSELLERS:

800-CEO-READ's 2014 Bestsellers
Posted December 31, 2014, 10:00 AM with category of Publishing Industry
Harry Kraemer has taken the top spot on our annual bestseller list for the third straight year.
Read more
    CONTRIBUTIONS
    SHARE THIS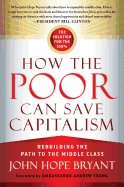 eBook
https://800ceoread.com/products/how-the-poor-can-save-capitalism-john-hope-bryant-english
To order call 1-800-236-7323 or e-mail orders@800ceoread.com
© 800-CEO-READ