How to Win Friends and Influence People (Revised)

You can go after the job you want...and get it! You can take the job you have...and improve it! You can take any situation you're in...and make it work for you!
Simon & Schuster Audio is proud to present one of the best-selling books of all time, Dale Carnegie's perennial classic "How to Win Friends and Influence People" -- presented here in its entirety on 8 cassettes.
For over 60 years the rock-solid, time-tested advice in this audiobook has carried thousands of now-famous people up the ladder of success in their business and personal lives.
With this truly phenomenal audiobook, learn:

    RELATED ARTICLES
THE 100 BEST BUSINESS BOOKS OF ALL TIME:

YOU
Posted April 1, 2016, 4:00 PM
Improving your life, your person and your strengths.
Read more
STAFF PICKS:

What book have you recommended the most?
Posted May 27, 2015, 10:00 AM with category of The Company
Our personal book-pushing habits run the gamut from fantasy to children's books to memoir and beyond.
Read more
NEWS & OPINION:

Jeff Hayzlett's Business Library
Posted April 27, 2010, 6:35 PM with category of General Business
If you know who Jeff Hayzlett is, it is probably from his appearances on television or his Twitter footprint. But the chief marketing officer of Kodak is now venturing into the wonderful world of analog with his new book, The Mirror Test: Is Your Business Really Breathing? , being released by Business Plus in May.
Read more
NEWS & OPINION:

Crowdsourced Entrepreneurial Reads
Posted September 14, 2009, 7:17 PM with category of General Business
A few weeks ago, Fred Wilson from avc. com kicked up interest in books that entreprenuers should read. Fred, in particular, made the point that "there is way more insight to be gained from stories than from business books.
Read more
NEWS & OPINION:

Internet Algorithm Arrives at Top 100 Business Books
Posted August 31, 2009, 5:59 PM with category of General Business
Jurgen Appelo at Noop. nl has created and algorithm that takes the number of Amazon reviews, average Amazon ranking, and number of hits on Google to create the Top 100 Best Books for Managers, Leaders & Humans. In talking about some of the analysis Appelo says: The book with the largest number of Amazon reviews is Freakonomics (#53, by Steven D.
Read more
    SHARE THIS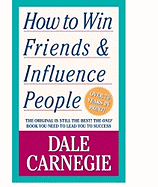 eBook
Price: $7.99/ea
LIST PRICE: $11.99
| | |
| --- | --- |
| Publisher | Pocket Books |
| Publish date | 02/01/1990 |
| Pages | 0 |
| Language | English |
Look for similar items