In Spite of the Gods: The Strange Rise of Modern India
India remains a mystery to many Americans, even as it is poised to become the world's third largest economy within a generation, outstripping Japan. It will surpass China in population by 2032 and will have more English speakers than the United States by 2050. In In Spite of the Gods, Edward Luce, a journalist who covered India for many years, makes brilliant sense of India and its rise to global power. Already a number-one bestseller in India, his book is sure to be acknowledged for years as the definitive introduction to modern India. In Spite of the Gods illuminates a land of many contradictions. The booming tech sector we read so much about in the West, Luce points out, employs no more than one million of India's 1.1 billion people. Only 35 million people, in fact, have formal enough jobs to pay taxes, while three-quarters of the country lives in extreme deprivation in India's 600,000 villages. Yet amid all these extremes exists the world's largest experiment in representative democracy--and a largely successful one, despite bureaucracies riddled with horrifying corruption. Luce shows that India is an economic rival to the U.S. in an entirely different sense than China is. There is nothing in India like the manufacturing capacity of China, despite the huge potential labor force. An inept system of public education leaves most Indians illiterate and unskilled. Yet at the other extreme, the middle class produces ten times as many engineering students a year as the United States. Notwithstanding its future as a major competitor in a globalized economy, American. leaders have been encouraging India's rise, even welcoming it into the nuclear energy club, hoping tobalance China's influence in Asia. Above all, In Spite of the Gods is an enlightening study of the forces shaping India as it tries to balance the stubborn traditions of the past with an unevenly modernizing present. Deeply informed by scholarship and history, leavened by humor and rich in anecdote, it shows that India has huge opportunities as well as tremendous challenges that make the future hers to lose.
Edward Luce was a speech writer for the Secretary of the Treasury Lawrence Summers and now works as the chief U.S. columnist for the Financial Times. He is the author of the national best seller In Spite of the Gods, and lives in Washington, D.C.
    RELATED ARTICLES
NEWS:

Robyn Meredith on NOW... and Other Resources
Posted June 23, 2008, 7:27 PM with category of General Business
In our first annual business book awards last year, the prize in the Globalization category went to Robyn Meredith's The Elephant and the Dragon: The Rise of India and China and What It Means for All of Us. I was a big fan of the book personally, and was pleasantly surprised to see her recently on NOW, a weekly program on PBS. NOW turned to Meredith for her perspective during the episode "India Rising"--their look at the meteoric rise of India (and China) on Friday evening.
Read more
NEWS:

2007 800-CEO-READ Business Book Awards announced today
Posted January 15, 2008, 3:05 PM with category of General Business
The day has finally arrived. After careful consideration, the winners have been determined for our first annual Business Book Awards. Nearly 300 titles were submitted which were then critiqued and reviewed by our editorial staff.
Read more
NEWS:

BusinessWeek's Best Business Books of 2007
Posted December 12, 2007, 10:17 PM with category of General Business
I have always appreciated BusinessWeek's commitment to the category of business books. The magazine reviews books in each issue and publish its monthly business book bestseller list. Continuing in their support, here are the slideshow of books BusinessWeek choose in 2007 as their Best Business Books of the Year: In Spite of the Gods: The Strange Rise of Modern India by Edward Luce Asian Godfathers: Money and Power in Hong Kong and Southeast Asia by Joe Studwell The Age of Turbulence: Adventures in a New World by Alan Greenspan The Black Swan: The Impact of the Highly Improbable by Nassim Nicholas Taleb The Strategy Paradox: Why Committing to Success Leads to Failure (And What to Do About It) by Michael E.
Read more
NEWS:

Podcasts Start Back Up with Zook
Posted August 10, 2007, 6:13 PM with category of General Business
We took some time off this summer from our podcasts. I am kicking off the fall season early with an interview I have been wanting to do for some time. Chris Zook is the author of three books, his most recent being Unstoppable.
Read more
    SHARE THIS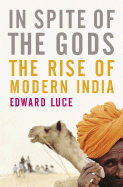 eBook
Price: $13.99/ea
| | |
| --- | --- |
| App required | iOS or Google Play |
| Publisher | Anchor |
| Publish date | 11/23/2010 |
| Pages | 0 |
| Availability | Available |
| Language | English |
Look for similar items