Jim Cramer's Get Rich Carefully
Tired of phony promises about getting rich quickly, promises that lead to reckless decisions (the stepping stones to the poor house)? How about trying something different? How about going for lasting wealth--and doing it the cautious way? In "Get Rich Carefully, "Jim Cramer uses his thirty-five years of experience as a Wall Street veteran and host of CNBC's "Mad Money" to create a guide to high-yield, low-risk investing. In our recovering economy, this is the plan you need to make big money without taking big risks.
Drawing on his unparalleled knowledge of the stock market and on the mistakes and successes he's made on the way to his own fortune, Cramer explains--in plain English--why you can get rich in a prudent, methodical way, as long as you start "now." In his own inimitable style, Cramer lays it on the line, no waffling, no on-the-one-hand-or-the-other hedging, just the straight stuff you need to accumulate wealth. This is a book of wisdom as well as specifics. Cramer names names, highlights individual and sector plays, and identifies the best long-term investing themes--and shows you how to develop the disciplines you need to exploit them.
The personal finance book of the year, "Get Rich Carefully "is the invaluable guide to turning your savings into real, lasting wealth in a practical, and yes--because this is, after all, a book by Jim Cramer--highly readable and entertaining way.
James J. Cramer is host of CNBC's "Mad Money "and cofounder of TheStreet.com. His many books include "Confessions of a Street Addict, Jim Cramer's Getting Back to Even, Jim Cramer's Mad Money, Jim Cramer's Real Money, Jim Cramer's Stay Mad for Life."
    RELATED ARTICLES
    SHARE THIS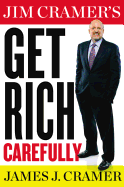 eBook
Price: $14.99/ea
| | |
| --- | --- |
| App required | iOS or Google Play |
| DRM | Yes |
| ISBN | 9780698148406 |
| Language | English |
| Publish Date | 12/30/2013 |
| Publisher | Plume |
Look for similar items