Less Is More: How Great Companies Use Productivity
From the author of the bestselling It's Not the Big That Eat the Small, It's the Fast That Eat the Slow comes a vital new guide to increasing business productivity without adding employees or other overhead costs
Managers and CEOs are always looking for ways to keep productivity high, and recent economic shakiness has only reinforced their need. Now Jason Jennings, a bestselling author and international business consultant, offers a groundbreaking look at how to boost productivity and your bottom line.
In Less Is More, Jennings shares tested and successful programs from the leading giants in industry and presents new trends that businesses of all sizes will be able to implement. Inside, you'll learn how to: increase sales 300 percent without increasing head countbecome 10 times more efficientkeep track of every pennyuse technology and automation in your favor
Written in the same breezy, informative style of Jennings's previous book, Less Is More is sure to join its predecessor on bestseller lists nationwide.
Jason Jennings became the world's youngest owner of a radio station when, at age twenty-one, he purchased KEOS In Flagstaff, Arizona. With speed and success that became legendary in the industry, he used his Innovative approach to business to propel his radio station group to the top of the Industry. Today, his company, Jennings Partners, is an International consultation practice that serves retail, manufacturing, distribution, and communications clients. He and his partner live in Tiburon, California. George Anders, author of Merchants of Debt and Health Against Wealth, is currently a news editor with the Wall Street Journal and formerly a senior editor at Fast Company. He was part of a team of Wall Street Journal reporters awarded the Pulitzer Prize for national reporting. He lives in northern California.
    RELATED ARTICLES
JACK COVERT SELECTS:

Jack Covert Selects - The Reinventors
Posted May 10, 2012, 9:43 PM with category of General Business
The Reinventors: How Extraordinary Companies Pursue Radical Continuous Change by Jason Jennings, Portfolio, 256page, $26. 95, May 2012, ISBN 9781591844235 The once vital Main Streets of America are all but out of business, boarded up or filled with antique stores shopping the delights and detritus of another era. Jason Jennings visits the main street of his own abandoned hometown at the beginning of The Reinventors to use it as a metaphor for "what will happen to you, your job, and your business unless you become a reinventor completely committed to constant radical change and growth.
Read more
NEWS:

Vince Thompson Recommends Management Books
Posted April 30, 2007, 6:39 PM with category of General Business
First time author Vince Thompson last month released Ignited: Managers Light Up Your Company and Career for More Power More Purpose and More Success. This afternoon, I posted a podcast I did with Vince.
Read more
NEWS:

800-CEO-READ Bestsellers 2003
Posted April 23, 2004, 8:02 PM with category of General Business
Now that the blog is officially up and running, lets have a look at 800-CEO-READs Top 15 for 2003: 1. Purple Cow by Seth Godin, Portfolio. 2.
Read more
JACK COVERT SELECTS:

Jack Covert Selects - Less is More
Posted November 22, 2002, 11:01 PM with category of General Business
Less is More: How Great Companies Use Productivity as a Competitive Tool in Business by Jason Jennings, Portfolio, 260 Pages, $24. 95 Hardcover, October 2002, ISBN 1591840015 The last time I spoke with Jason Jennings, we talked frankly about the amount of research and time it took for him to write this book. Well, the end result is definitely worth the effort he made, as this is a beautifully documented tome.
Read more
    SHARE THIS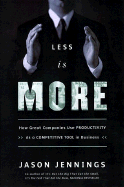 eBook
Price: $14.99/ea
| | |
| --- | --- |
| App required | iOS or Google Play |
| Publisher | Portfolio |
| Publish date | 11/10/2002 |
| Pages | 0 |
| Availability | Available |
| Language | English |