Meatball Sundae: Is Your Marketing Out of Sync?
?Gotta get me some of that New Marketing. Bring me blogs, e-mail, YouTube videos, MySpace pages, Google AdWords . . . I don't care, as long as it's shiny and new.?
Wait. According to bestselling author Seth Godin, all these tactics are like the toppings at an ice cream parlor. If you start with ice cream, adding cherries and hot fudge and whipped cream will make it taste great. But if you start with a bowl of meatballs . . . yuck!
As traditional marketing fades away, the new tools seem irresistible. But they don't work as well for boring brands (?meatballs?) that might still be profitable but don't attract word of mouth, such as Cheerios, Ford trucks, Barbie dolls, or Budweiser. When Anheuser-Busch spends $40 million on an online network called BudTV, that's a meatball sundae. It leads to no new Bud drinkers, just a bad case of indigestion.
"Meatball Sundae" is the definitive guide to the fourteen trends no marketer can afford to ignore. It explains what to do about the increasing power of stories, not facts; about shorter and shorter attention spans; and about the new math that says five thousand people who want to hear your message are more valuable than five million who don?t.
The winners aren't just annoying start-ups run by three teenagers who never had a real job. You?ll also meet older companies that have adapted brilliantly, such as Blendtec, a thirty-year-old blender maker. It now produces ?Will it blend videos that demolish golf balls, Coke cans, iPhones, and much more. For a few hundred dollars, Blendtec reached more than ten million eager viewers on YouTube.
Godin doesn't pretend that it's easy to get your products, marketing messages, and internal systems in sync. But he?ll convince you that it's worth the effort.
Seth Godin is the author of twelve bestselling books, a popular blogger and a successful entrepreneur. His books have been translated into more than 35 languages. He founded Squidoo.com, one of the hundred most popular websites in the United States. Godin has been a columnist for Fast Company and the Harvard Business Review and has given thousands of keynote speeches for companies, governments and non-profit organizations.
    RELATED ARTICLES
JACK COVERT SELECTS:

Social Media University Reading List
Posted August 13, 2009, 3:48 PM with category of Marketing
I had the opportunity to speak at Social Media University - Milwaukee a few weeks ago. Some of the follow-up email has been asking for the recommended reading list I gave out during my Blogging For Success session. Here the list and some reasons these are worth your time: Here Comes Everybody by Clay Shirky - This is the big idea book; it's the one that examines social media from a sociological viewpoint with outstanding examples the reduced friction the Internet provides.
Read more
JACK COVERT SELECTS:

Books for Understanding Social Media
Posted June 5, 2009, 5:51 PM with category of General Business
Everybody has been asking us what books they should read to understand social media. People are trying to make sense of this newly connected world. How does Facebook affect my business?
Read more
NEWS:

Special Offers on Seth Godin Books
Posted January 18, 2008, 6:21 PM with category of The Company
For those you have been following the tour and to our loyal readers, here are a few offers: We are offering Meatball Sundae for 40% off. This will run through the weekend and close on Tuesday. If you buy 10 copies, we'll send along a Seth Godin Marketing Guru Action Figure.
Read more
JACK COVERT SELECTS:

Other Reviews of Meatball Sundae
Posted January 18, 2008, 6:09 PM with category of Marketing
Here is a list of reviews to give you an idea of what other have been saying about Meatball Sundae: Jack Covert Selects - "Meatball Sundae is a wake-up call for companies to get rid of old ideas. I was captivated by the examples Godin uses to explain how the trends work, why the new marketing tactics don't work for many companies and how they can use this knowledge to grow and change along with the trends. This is a must-read for anyone who thinks that, by default, they have to use new media to sell their products.
Read more
JACK COVERT SELECTS:

Jack Covert Selects - Meatball Sundae
Posted January 18, 2008, 4:50 PM with category of Marketing
Meatball Sundae by Seth Godin, Portfolio, 256 pages, $23. 95 Hardcover, January 2008, ISBN 9781591841746 In Meatball Sundae, marketing guru Seth Godin explains that not all products are created equal in terms of marketing approach. In the old days of marketing, consumers really had no choice but to listen to whatever marketers, sales clerks, or the media ads wanted them to hear.
Read more
    SHARE THIS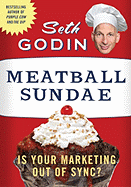 eBook
Price: $12.99/ea
| | |
| --- | --- |
| App required | iOS or Google Play |
| Publisher | Portfolio |
| Publish date | 12/26/2007 |
| Pages | 0 |
| Availability | Available |
| Language | English |
Look for similar items