Mein Kampf: The Official 1939 Edition
"The great masses of the people will more easily fall victim to a big lie than to a small one." Adolf Hitler The officially sanctioned English language edition of 'Mein Kampf' was translated and introduced by James Murphy. The edition using his translation was first published as a two volume set in the UK in 1939 and also in 22 weekly parts by Hutchison and Co Ltd. This authentic paperback brings together both of the original volumes complete with Murphy's 1939 introduction and a new introduction by Emmy Awardtm winning historian Bob Carruthers. Murphy's was the only translation which was officially endorsed by the Nazi party during Hitler's lifetime and as such represents an opportunity to approach the work as it was presented to contemporary readers. This was the version of 'Mein Kampf' which the Nazi party hoped would spread the gospel of National Socialism throughout the UK, but by the time publication was underway World War II had commenced. Somewhat surprisingly, publication of the weekly illustrated edition was allowed to continue although all proceeds from the sale were diverted to the British Red Cross. This new publication of the entire primary source provides the reader with access to the complete historical document and provides a unique insight into the past by reproducing 'Mein Kampf' as it was presented to British readers in the thirties.
Dr. Friedrich Stieve (1884-1966) was Germany's foremost diplomatic historian of the first half of the twentieth century. He obtained his PhD in history at Heidelberg university, and during the First World War served as press attache at the German Embassy Stockholm. From 1928 to 1932 he served as the German Ambassador in Riga, Latvia. And then from 1932 to 1929 served as the first head of the Cultural Policy Department of the Foreign Office. From 1933 to 1936 he was also Head of the Archives of the Political Archive of the Foreign Office.
    CONTRIBUTIONS
    SHARE THIS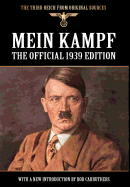 eBook
Price: $22.99/ea
| | |
| --- | --- |
| Publisher | Archive Media Publishing Ltd |
| Publish date | 11/01/2011 |
| Pages | 428 |
| Availability | Available |
| Language | English |
Look for similar items