The Moral Economy of the Peasant: Rebellion and Subsistence in Southeast Asia
James C. Scott places the critical problem of the peasant household—subsistence—at the center of this study.  The fear of food shortages, he argues persuasively, explains many otherwise puzzling technical, social, and moral arrangements in peasant society, such as resistance to innovation, the desire to own land even at some cost in terms of income, relationships with other people, and relationships with institutions, including the state.
Once the centrality of the subsistence problem is recognized, its effects on notions of economic and political justice can also be seen.  Scott draws from the history of agrarian society in lower Burma and Vietnam to show how the transformations of the colonial era systematically violated the peasants' "moral economy" and created a situation of potential rebellion and revolution.
Demonstrating keen insights into the behavior of people in other cultures and a rare ability to generalize soundly from case studies, Scott offers a different perspective on peasant behavior that will be of interest particularly to political scientists, anthropologists, sociologists, and Southeast Asianists.
"The book is extraordinarily original and valuable and will have a very broad appeal.  I think the central thesis is correct and compelling."—Clifford Geertz
 "In this major work, … Scott views peasants as political and moral actors defending their values as well as their individual security, making his book vital to an understanding of peasant politics."—Library Journal 
James C. Scott is professor of political science at Yale University.
James C. Scott is the Sterling Professor of Political Science, professor of anthropology, and codirector of the Agrarian Studies Program at Yale University. His books include "Seeing Like a State: How Certain Schemes to Improve the Human Condition Have Failed"; "Domination and the Arts of Resistance: Hidden Transcripts"; and most recently, "The Art of Not Being Governed: An Anarchist History of Upland Southeast Asia." He is a fellow of the American Academy of Arts and Sciences and a mediocre part-time farmer and beekeeper.
    RELATED ARTICLES
NEWS:

More Reading from All Marketers Are Liars
Posted May 31, 2005, 2:02 PM with category of General Business
Seth Godin ends All Marketers Are Liars with a list of other books worth reading: Crossing the Chasm by Geoffery Moore Positioning by Trout and Ries In Pursuit of Wow! and The Tom Peters Seminar by Tom Peters Blink by Malcolm Galdwell Selling the Dream by Guy Kawasaki The Republic of Tea by Bill Rosenzweig and Mel Ziegler (out of print) Don't Think Of An Elephant! /How Democrats And Progressives Can Win by George Lakoff Secrets of Closing the Sale by Zig Ziglar Why We Buy by Paco Underhill Creating Customer Evangelists by Ben McConnell and Jackie Huba Emotional Design by Donald Norman The Moral Economy of the Peasant by James Scott Creative Company: How St.
Read more
    SHARE THIS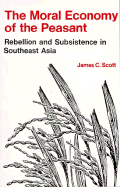 eBook
Price: $21.00/ea
| | |
| --- | --- |
| App required | iOS or Google Play |
| Publisher | Yale University Press |
| Publish date | 09/09/1977 |
| Pages | 0 |
| Availability | Available |
| Language | English |
Look for similar items