Panic: The Story of Modern Financial Insanity
When it comes to markets, the first deadly sin is greed. Michael Lewis is our jungle guide through five of the most violent and costly upheavals in recent financial history: the crash of '87, the Russian default (and the subsequent collapse of Long-Term Capital Management), the Asian currency crisis of 1999, the Internet bubble, and the current sub-prime mortgage disaster. With his trademark humor and brilliant anecdotes, Lewis paints the mood and market factors leading up to each event, weaves contemporary accounts to show what people thought was happening at the time, and then, with the luxury of hindsight, analyzes what actually happened and what we should have learned from experience.
As he proved in Liar's Poker, The New New Thing, and Moneyball, Lewis is without peer in his understanding of market forces and human foibles. He is also, arguably, the funniest serious writer in America.
    RELATED ARTICLES
NEWS & OPINION:

100 Best Makes ALA Top 10 List
Posted October 1, 2009, 3:35 PM with category of General Business
Each year, the American Library Association compiles a list of business books that libraries around the country use for guidance on quality books to include in their stock. This year, they've included 8cr's Jack Covert and Todd Sattersten's The 100 Best Business Books of All Time in their list of ten recommended business books for libraries to carry. Also included in the list are Michael Lewis', Panic: The Story of Modern Financial Insanity, Julia Angwin's, Stealing MySpace: The Battle to Control the Most Popular Website in America, and others, including something I'm personally interested in seeking out, Greg Grandin's, Fordlandia: The Rise and Fall of Henry Ford's Forgotten Jungle City.
Read more
NEWS & OPINION:

Why You Should Read Michael Lewis
Posted March 24, 2009, 2:30 PM with category of Finance & Economics
There are a set of writers who we assign superpowers to in The 100 Best. To the Wall Street trader turned juggernaut writer Michael Lewis, we assigned interpretation. And that may not seem like much of a gift, but it is his ability to make apparent, to bring meaning and understanding to those hidden forces.
Read more
NEWS & OPINION:

Our Response to BusinessWeek
Posted February 9, 2009, 3:32 AM with category of General Business
There are only a few people in the media who know business books as well as Jack and I. Hardy Green, an associate editor at BusinessWeek, is one of those people. We met with Hardy in New York two weeks ago and he quickly commenced with critiquing our selections for The 100 Best.
Read more
NEWS & OPINION:

An Independent Bookseller Picks Five
Posted December 19, 2008, 3:00 PM with category of General Business
R. J. Julia Booksellers Founder Roxanne J.
Read more
JACK COVERT SELECTS:

Jack Covert Selects - Panic
Posted December 12, 2008, 8:48 PM with category of General Business
Panic: The Story of Modern Financial Insanity edited by Michael Lewis, W. W. Norton & Company, 391 Pages, $27.
Read more
    SHARE THIS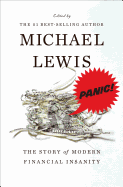 eBook
Price: $27.95/ea
| | |
| --- | --- |
| Publisher | W. W. Norton & Company |
| Publish date | 11/17/2008 |
| Pages | 391 |
| Availability | Available |
| ISBN-10 | 0393065146 |
| Language | English |
Look for similar items