The Quest for Kaitiakitanga: The Ancient Maori Secret from New Zealand That Could Save the Earth
"Kaitiakitanga, " an ancient Maori concept meaning guardianship of the land, has undergone a revival in New Zealand and is fueling an increasingly popular eco-movement. Structured by Richard Bangs as a grand adventure, this book looks at how the Maori way is becoming the modern way. Bangs expedition includes heli-hiking, ice-climbing, kayaking, and more as he travelsthrough New Zealand s stunning landscapes. Along the way, the author encounters threatened wildlife, massive trees that predate Christ, monumental glaciers, and the kinds of advances fostered by kaitiakitanga, from radically designed eco-lodges to paradigm-shifting native ventures."
Richard Bangs is the author of many books and is often called the father of modern adventure travel. He is now the host of the PBS series Richard Bangs' Adventures with Purpose, now one of PBS's hottest series. Bangs is a well-known TV personality, whose travel specials and documentaries have been shown on public television foryears, and is the co-director of the IMAX film Mystery of the Nile. This is the first Open Road companion book in this series and will be followed by the future books on Norway, India, and a number of other destinations.
    SHARE THIS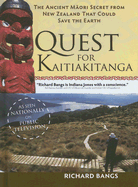 eBook
Price: $16.95/ea
| | |
| --- | --- |
| ISBN | 9780897326582 |
| Language | English |
| Pages | 260 |
| Publish Date | 12/01/2007 |
| Publisher | Menasha Ridge Press |
Look for similar items