Relationship Economics: Transform Your Most Valuable Business Contacts Into Personal and Professional Success
"If a man is judged by the company he keeps, David Nour's "Relationship Economics" provides a systematic approach to building value in that judgment. The concepts reach well beyond networking to building lasting and productive relationships."
--Dennis Sadlowski, President and CEO, Siemens Energy and Automation, Inc.
"Relationship Economics is so much more than networking-it's a systematic approach to building and nurturing relationships to get things done."
--William L. Koleszar, Senior Vice President, Marketing, Citizens Financial Group/Royal Bank of Scotland
"Social capital is essential for success, and "Relationship Economics" provides an approach to enhancing its value."
--Terry C. Blum, Director, Institute for Leadership and Entrepreneurship, Georgia Tech College of Management
"In the airline industry-or any industry for that matter-strategic relationships are instrumental to your success to drive profitable, long-term growth. David Nour has captured that essence in Relationship Economics."
--Randy Martinez, Col. USAF (Ret.) and former CEO, World Air Holdings, Inc.
"In "Relationship Economics," David Nour highlights very timely concepts and successfully points out that with today's technology and global knowledge, we are able to formulate personal, functional, and strategic relationships essential to our success."
--Peter M. Sontag, Chairman, Orthopedic Development Corporation
"Forget cold calling. It's still about who you know, and Relationship Economics paves the fastest and most disciplined process for building a world-class portfolio of quantifiable and strategic business relationships."
--Greg Alexander, CEO, Sales Benchmark Index, and author of "Making the Number" and coauthor of "Topgrading for Sales"
"The Relationship Economics principles are critical to business, cultural, and diplomatic success. Look at any successful businessperson-they have done an outstanding job of managing their relationships, consistently over a long period of time."
--Ken Stewart, Commissioner - Economic Development, State of Georgia
"A fantastic read. Constantly weaving great ideas with practical applications. You'll never look at business relationships the same way again."
--Rick Frishman, founder, Planned Television Arts, and Publisher, Morgan James Publishing
    RELATED ARTICLES
BESTSELLERS:

The 800-CEO-READ Bestsellers of 2012
Posted December 31, 2012, 5:41 PM with category of General Business
We move a whole lot of business books around the world from our humble offices here in Milwaukee, Wisconsin. We've now compiled the numbers for the entire year, and are happy to announce the bestsellers of 2012.
Read more
BESTSELLERS:

The Bestsellers of 2011
Posted December 31, 2011, 5:10 PM with category of General Business
2011 was the second year that Inc. magazine partnered with us to spread the word on what books are leaving our warehouse in great numbers every month, heading out to businesspeople and their organizations to solve problems, promote change and inspire leadership. We've now compiled the Inc.
Read more
    SHARE THIS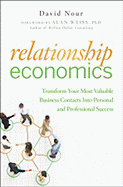 eBook
Price: $12.99/ea
| | |
| --- | --- |
| App required | iOS or Google Play |
| Publisher | Wiley |
| Publish date | 02/07/2011 |
| Pages | 0 |
| Availability | Available |
| Language | English |