Running the Gauntlet: Essential Business Lessons to Lead, Drive Change, and Grow Profits
Change your ATTITUDE. Change your BUSINESS. Change your FUTURE.
What s stopping you from making the changes your business needs to thrive? The most dangerous move in business is the failure to make a move at all. The history of business is filled with companies that are no more because their leaders refused to enact change when the writing was on the wall. "Fear. Apathy. Lack of personal responsibility." These simple human flaws can turn a good company into a dead company.
The writing on the wall has never been clearer than it is now and marketing phenomenon Jeffrey Hayzlett is on a mission to make you see it, understand it, and heed it. Today s business environment is so competitive and volatile that you can t afford to be satisfied with business as usual. You must make changes now to compete in the future.
Building on the principles and concepts in his first book "The Mirror Test," Hayzlett takes you on a step-by-step journey to: Develop a takeover mentality for your business Summon the vision and courage necessary for driving change Sharpen the mental and emotional toughness to make strategic, lasting change Execute the right changes and deal with any disruptions they might cause Sustain and manage your company s new-found momentum
Change is already happening all around you to products, to organizations, to entire industries. Eventually, it will happen to your company, whether from outside forces or your own initiative.
You ve always had the ability to institute positive change in your company. Now, with "Running the Gauntlet," you have the inspiration and knowledge to make it happen and take control of it instead of letting it control you.
Praise for "Running the Gauntlet"
"If the shoe fits, wear it! Jeff's advice fits any hard-charging business owner and leader."
Tony Hsieh, "New York Times" bestselling author of "Delivering Happiness" and CEO, Zappos.com
I've seen a lot of sharks, and Hayzlett's advice comes like a Hammerhead. He can smell blood from a mile away, so when Hayzlett jumps in big waters, some sharks have to jump out.
Daymond John, founder and CEO, FUBU, and star of ABC s business show "Shark Tank"
If Jeff were a wine, it would be strong, sassy, and bold - just like his savvy business advice. This is a wine you want to open again and again.
Gary Vaynerchuk, co-founder, Vaynermedia.com
""Running the Gauntlet" just played the Trump Card. This book is terrific!"
Ivanka Trump, EVP Trump Organization
"It's time someone grabs you (and your business) by the shirt collar and shakes you! Strap on your chaps business celebrity Jeff Hayzlett is going to take you on a rough-and-tumble ride that just might change the life of your business forever. Muster the courage and buy this book!"
Darren Hardy, Publisher, "SUCCESS" magazine, and bestselling author of "The Compound Effect""
Sylvie di Giusto has twenty years of corporate experience educating and inspiring thousands of clients around the world. She has long been fascinated by the power of image and the way people can use their personal brand to positively influence their own career. Her ability to empower people, her corporate background and her passion for fashion has led to her launching Executive Image Consulting, based in New York City. As an exceptional speaker, an effective trainer, and an enthusiastic coach she uses her extensive corporate experience to help clients to project a powerful visual image onto their target market, within the first seconds of being seen. She uses a series of core marketing principles and packaging design knowledge to develop strong visual brand aesthetics for her clients, because successful packaging designer sell an experience through their packaging. Perception, perception, perception. It's all about perception!

"Over the years I've learned it's better to craft the way others are going to perceive you, rather than to sit back and hope it's going to be in a great way. You have to package yourself in a way that represents your product in the best possible way. Make today the day you start taking control of your image, of the imprint you leave in others mind. I thank you for making this book part of this journey. Enjoy the read!"
Sylvie di Giusto
People Packaging is what I do...
    RELATED ARTICLES
EXCERPTS:

Think Big, Act Bigger: The Rewards of Being Relentless
Posted October 9, 2015, 1:30 PM
Jeffrey Hayzlett tells you to think big and act bigger,
because you can
.
Read more
NEW RELEASES:

Think Big, Act Bigger: The Rewards of Being Relentless
Posted October 2, 2015, 3:00 PM with category of General Business
With his third book, Jeffrey Hayzlett teaches us to be unapologetically ourselves, and use that self to make big moves in business and life.
Read more
JACK COVERT SELECTS:

Jack Covert Selects - Running the Gauntlet
Posted January 12, 2012, 9:32 PM with category of General Business
Running the Gauntlet: Essential Business Lessons to Lead, Drive Change, and Grow Profits by Jeffrey Hayzlett with Jim Eber, McGraw-Hill, 256 pages, $26. 00, Hardcover, December 2011, ISBN 9780071784092 Change often isn't pretty and Jeffrey Hayzlett should know. In his second book, Running the Gauntlet, written in collaboration with business writer Jim Eber (as was his first, the best-selling The Mirror Test), he provides vivid detail of his adventures as a corporate change agent.
Read more
    CONTRIBUTIONS
    SHARE THIS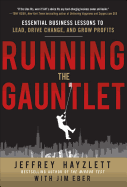 eBook
Price: $22.10/ea
| | |
| --- | --- |
| App required | iOS or Google Play |
| Publisher | McGraw-Hill |
| Publish date | 12/03/2011 |
| Pages | 0 |
| Availability | Available |
| Language | English |
Look for similar items