Survival Is Not Enough: Why Smart Companies Abandon Worry and Embrace Change
You can't embrace change any faster...can't make time for the synergy training workshop...can't deal with one more change management seminar. So stop changing. Evolve. Evolution can be unleashed in your organization, effortlessly and gradually changing everything in its path. By teaching your company to "zoom" -- embrace change without pain -- you'll have a company that evolves and ultimately attracts people who drive it to evolve even faster. In up or down markets, for companies in any industry, embrace the organic approach detailed in Survival Is Not Enough and you will always outperform the competition. Here's practical advice on how to make the chaos we all must deal with an asset, not a threat.
Seth Godin is the author of twelve bestselling books, a popular blogger and a successful entrepreneur. His books have been translated into more than 35 languages. He founded Squidoo.com, one of the hundred most popular websites in the United States. Godin has been a columnist for Fast Company and the Harvard Business Review and has given thousands of keynote speeches for companies, governments and non-profit organizations. Charles Darwin was an English naturalist and author best-known for his revolutionary theories on the origin of species, human evolution, and natural selection. A life-long interest in the natural world led Darwin to neglect his medical studies and instead embark on a five-year scientific voyage on the HMS Beagle, where he established his reputation as a geologist and gathered much of the evidence that fuelled his later theories.A prolific writer, Darwin's most famous published works include The Voyage of the Beagle, On the Origin of Species, The Descent of Man, and Selection in Relation to Sex, and The Expression of Emotions in Man and Animals. Darwin died in 1882, and in recognition of his contributions to science, is buried in Westminster Abbey along with John Herschel and Isaac Newton.
    REVIEW QUOTES
Tom Peters Seth Godin, one of the world's most original thinkers, offers us a manifesto for change and growth. A landmark effort, equally valuable for individuals and enterprises.
    SHARE THIS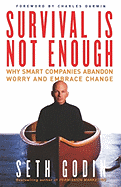 eBook
Price: $14.99/ea
| | |
| --- | --- |
| App required | iOS or Google Play |
| Publisher | Free Press |
| Publish date | 11/23/2009 |
| Pages | 0 |
| Availability | Available |
| Language | English |
Look for similar items