Think Big, ACT Small: How America's Best Performing Companies Keep the Start-Up Spirit Alive
Is it possible for a company to grow its revenues and profits by 10 percent or more for at least ten consecutive years, not counting acquisitions? That s an incredibly high bar for growth and profitability, one that 99.99 percent of American companies can t meet including the famous ones that routinely land on magazine covers.
Management expert Jason Jennings screened 100,000 companies to identify nine little- known firms that have delivered stellar performance for a full decade or more, despite the ups and downs of the economy. And, as he reveals in his new book, these superstars have a lot in common despite their wide range of industries, which includes software, food services, medical supplies, and sporting goods.
It turns out that the best long-term performers all combine the strengths of a big organization with the hunger of a start-up. They build excellent relationships with their customers, suppliers, workers, and shareholders. They groom future leaders at all levels. They balance their short-term goals with their long-term visions. And they teach their managers to get their hands dirty.
Jennings did extensive interviews at his nine featured companies to find out exactly how they consistently increase revenue and profits without using manipulation or gimmickry. He reveals their unique approach to leadership and shows how any company, no matter what size or industry, can benefit from following their examples.
Think Big, Act Small may be the most powerful management book since Good to Great and Execution.
"
    RELATED ARTICLES
JACK COVERT SELECTS:

Jack Covert Selects - The Reinventors
Posted May 10, 2012, 9:43 PM with category of General Business
The Reinventors: How Extraordinary Companies Pursue Radical Continuous Change by Jason Jennings, Portfolio, 256page, $26. 95, May 2012, ISBN 9781591844235 The once vital Main Streets of America are all but out of business, boarded up or filled with antique stores shopping the delights and detritus of another era. Jason Jennings visits the main street of his own abandoned hometown at the beginning of The Reinventors to use it as a metaphor for "what will happen to you, your job, and your business unless you become a reinventor completely committed to constant radical change and growth.
Read more
NEWS & OPINION:

2008 Best Sellers
Posted January 20, 2009, 2:00 PM with category of Publishing Industry
Below are our 2008 Best Sellers (links open in new windows/tabs) 1. How: Why How We Do Anything Means Everything. .
Read more
NEWS & OPINION:

Vince Thompson Recommends Management Books
Posted April 30, 2007, 6:39 PM with category of General Business
First time author Vince Thompson last month released Ignited: Managers Light Up Your Company and Career for More Power More Purpose and More Success. This afternoon, I posted a podcast I did with Vince.
Read more
NEWS & OPINION:

Richard Pachter's Best Business Books of 2005
Posted January 13, 2006, 3:03 PM with category of General Business
I know we are getting into the New Year, but I thought I would share one more best of list. You have seen me quote Richard Pachter before. He writes reviews for the Miami Herald.
Read more
NEWS & OPINION:

And you think we review alot of business books...
Posted October 18, 2005, 2:58 PM with category of General Business
Robert Morris is a management consultant based out of Texas. He likes reading business books. He says he has read over 1500 management books.
Read more
    SHARE THIS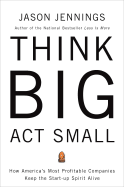 eBook
Price: $12.99/ea
| | |
| --- | --- |
| App required | iOS or Google Play |
| Publisher | Portfolio |
| Publish date | 05/04/2005 |
| Pages | 0 |
| Availability | Available |
| Language | English |