Unleashing the Ideavirus: Stop Marketing at People! Turn Your Ideas Into Epidemics by Helping Your Customers Do the Marketing for You.
The book that sparked a marketing revolution.
"This is a subversive book. It says that the marketer is not--and ought not to be--at the center of successful marketing. The customer should be. Are you ready for that?" --From the Foreword by Malcolm Gladwell, author of The Tipping Point.
Counter to traditional marketing wisdom, which tries to count, measure, and manipulate the spread of information, Seth Godin argues that the information can spread most effectively from customer to customer, rather than from business to customer. Godin calls this powerful customer-to- customer dialogue the ideavirus, and cheerfully eggs marketers on to create an environment where their ideas can replicate and spread.
In lively detail, Godin looks at the ways companies such as PayPal, Hotmail, GeoCities, even Volkswagen have successfully launched ideaviruses. He offers a "recipe" for creating your own ideavirus, identifies the key factors in the successful spread of an ideavirus (powerful sneezers, hives, a clear vector, a smooth, friction-free transmission), and shows how any business, large or small, can use ideavirus marketing to succeed in a world that just doesn't want to hear it anymore from the traditional marketers.
Seth Godin is the author of twelve bestselling books, a popular blogger and a successful entrepreneur. His books have been translated into more than 35 languages. He founded Squidoo.com, one of the hundred most popular websites in the United States. Godin has been a columnist for Fast Company and the Harvard Business Review and has given thousands of keynote speeches for companies, governments and non-profit organizations.
    RELATED ARTICLES
EXCERPTS:

Branding Unbound by Rick Mathieson - Part IV
Posted September 15, 2005, 2:58 PM with category of General Business
Q&A Seth Godin: Permission Marketing and "My Own Private Idaho" "Permission Marketing. " "Purple Cows. " "Idea Viruses.
Read more
NEWS:

800-CEO-READ sponsors WOMMA Summit 2005
Posted March 25, 2005, 8:44 PM with category of Marketing
800-CEO-READ is a proud sponsor of the Word-of-Mouth Marketing Summit 2005. We don't normally sponsor events, but we thought this was an unique event on a unique topic. The Summit is being held in Chicago next week and word has it that it is sold out.
Read more
JACK COVERT SELECTS:

Jack Covert Selects - Unleashing the Ideavirus
Posted December 10, 2000, 7:12 PM with category of General Business
Unleashing the Ideavirus by Seth Godin, Do You Zoom, Inc. , 190 Pages, $40. 00 Hardcover, September 2000, ISBN 0970309902 In the world of contemporary marketing, a couple of new names stand out - besides the classics like David Aaker, Philip Kotler.
Read more
    SHARE THIS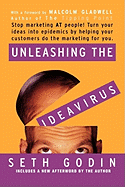 eBook
Price: $9.99/ea
| | |
| --- | --- |
| App required | iOS or Google Play |
| DRM | Yes |
| ISBN | 9780786870455 |
| Language | English |
| Publish Date | 10/31/2001 |
| Publisher | Hachette Books |
Look for similar items